Nigeria's Minister of Works, Power and Housing, Babatunde Fashola (SAN) has asked Nigerians who really want to know why he's running three ministries to direct their questions to President Muhammadu Buhari.
ALSO READ  Eary Birds: President Buhari To Submit 2017 Budget October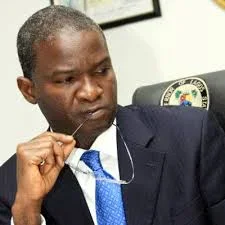 Speaking during a townhall meeting in Meeting in Abuja, "Whether I can cope with three ministries or not, let us be clear on this. On the one hand, we have spoken about the cost of running government. And in trying to mitigate or reduce that cost, Mr. President, in his own wisdom, decided to merge three ministries together," he said.
"So, my work really there is supervisory and directional. Today in the ministry of works, and in the ministry of housing, where there are over 4000 personnel, the number is reducing. The ministry of power has barely 800 staff today and the number is reducing as we are gaining traction".
"Two of those ministries have had a natural relationship over the years; they were works and housing, or lands, works and something. In adding power to it, let us remember that essentially the work that is left in power is just to complete the privitisation and complete the transmission grid".
"The distribution is now in the hands of companies. All of the work that NEPA (National Electric Power Authority) used to do in terms of distributing power is now in the hands of 11 companies. What they used to do in terms of generating power is now in the hands of six companies".