The world of Formula One, is obviously dominated with fast cars and superb drivers, able to compete with the fast cars.
The competition started in 1950 and has gone on to produce a lot of Champions over the years. New school fans of formula one will be familiar with the likes of Nico Rosberg, Lewis Hamilton, Fernando Alonso. The question now is, who has won the most Championship in history? Well, here are the top ten drivers with the most championships since it started in 1950.
10. Lewis Hamilton – 2008, 2014, 2015 (3)
The 30-year-old, is now a triple world champion after his success in 2008, 2014 and 2015. He drives the sport's fastest car. Hamilton's bold move to Mercedes in 2013, which many thought would go badly, has reinvigorated him.  After being on the books of McLaren since boyhood, he clearly needed a change from the team which helped him become world champion.Hamilton's time with McLaren soured towards the end.
9. Ayrton Senna – 1988, 1990, 1991 (3)
Widely regarded as the greatest driver of all time, Ayrton Senna's name will forever live amongst the sporting greats such as Pele, Nicklaus, Tendulkar and Federer. The Brazilian may have only won three world championships, four short of the record held by Michael Schumacher, but he competed during the sports most gifted era and was the most gifted driver. Senna's premature death in 1994, after a crash at Imola, put the whole of Brazil in a state of mourning. In a country where football rules, it was the death of a racer which brought it to a stand still.
8. Nelson Piquet – 1981, 1983, 1987 (3)
Piquet, burst onto the scene in 1979, effectively forcing Niki Lauda into retirement with some stunning qualifying performances. It convinced Bernie Ecclestone to entrust Piquet with team leadership at Brabham. His huge Imola crash knocked the edge off his performance too, but his testing prowess in developing the active suspension brought a third title.His Lotus years were a disaster, but two seasons at Benetton produced three more wins. After leaving F1 he entered the Indy 500 and badly broke both legs in a massive crash, which effectively ended his competitive career.
7. Niki Lauda – 1975, 1977, 1984 (3)
Lauda, became interested in motor racing not from attendance at events or boyhood idolization of racing heroes, but rather from an innate interest in automobiles dating to a young age. He was seldom faster than the best of his rivals. He disliked risks that he considered unnecessary. He was not noted for redoubling his efforts when things weren't going well. He was not one for making selfless sacrifices for the good of the team. All three of his championships probably came about as much because he willed them into existence as for any other reason.
6. Jackie Stewart – 1969, 1971, 1973 (3)
Stewart, was one of those drivers who was so smooth, so precise, that he didn't look quick unless you had a stopwatch in your hand. The 1969, 1971 and 1973 world champion is the man who set the template for his era. Always thinking, among his 27 wins are myriad examples of how he out-thought the opposition. His last lap win at Monza in 1969 is the stuff of legend and was the result of a decision to run a long fourth gear for the run to the line. But he was also an inspired virtuoso, as his incredible win in the wet at the 1968 German Grand Prix proved.
5. Jack Brabham – 1959, 1960, 1966 (3)
In 1955, he made his way to Europe and had his Grand prix debut at Aintree. After an abortive stint driving a private Maserati 250F he joined the Cooper team. In 1961 Brabham made history at the Indianapolis 500 when he entered a modified Formula One Cooper with a 2.7 litre Climax engine. For 1966 a new 3 liter formula came into existence. Brabham found an engine in his own backyard with the Australian Repco Company. The Repco-Brabham would provide Brabham a car with which he won the French, British, Dutch and German Grands Prix and that years World Championship.
ALSO READ: Top 7 Richest Boxers In The World In 2016
4. Sebastian Vettel – 2010, 2011, 2012, 2013 (4)
Four world championships. 42 race victories. 28 years of age. These stats are quite incredible, and have been set by an incredible driver. Sebastian Vettel may split opinion but no one can deny he is, statistically, one of the greatest drivers of all time. Vettel is one of a number of young racing drivers inspired by the great Michael Schumacher, Vettel's fellow German. And like the seven-time champion Vettel shares his ruthless personality, steely determination and above all, blistering speed.
3. Alain Prost – 1985, 1986, 1989, 1993 (4)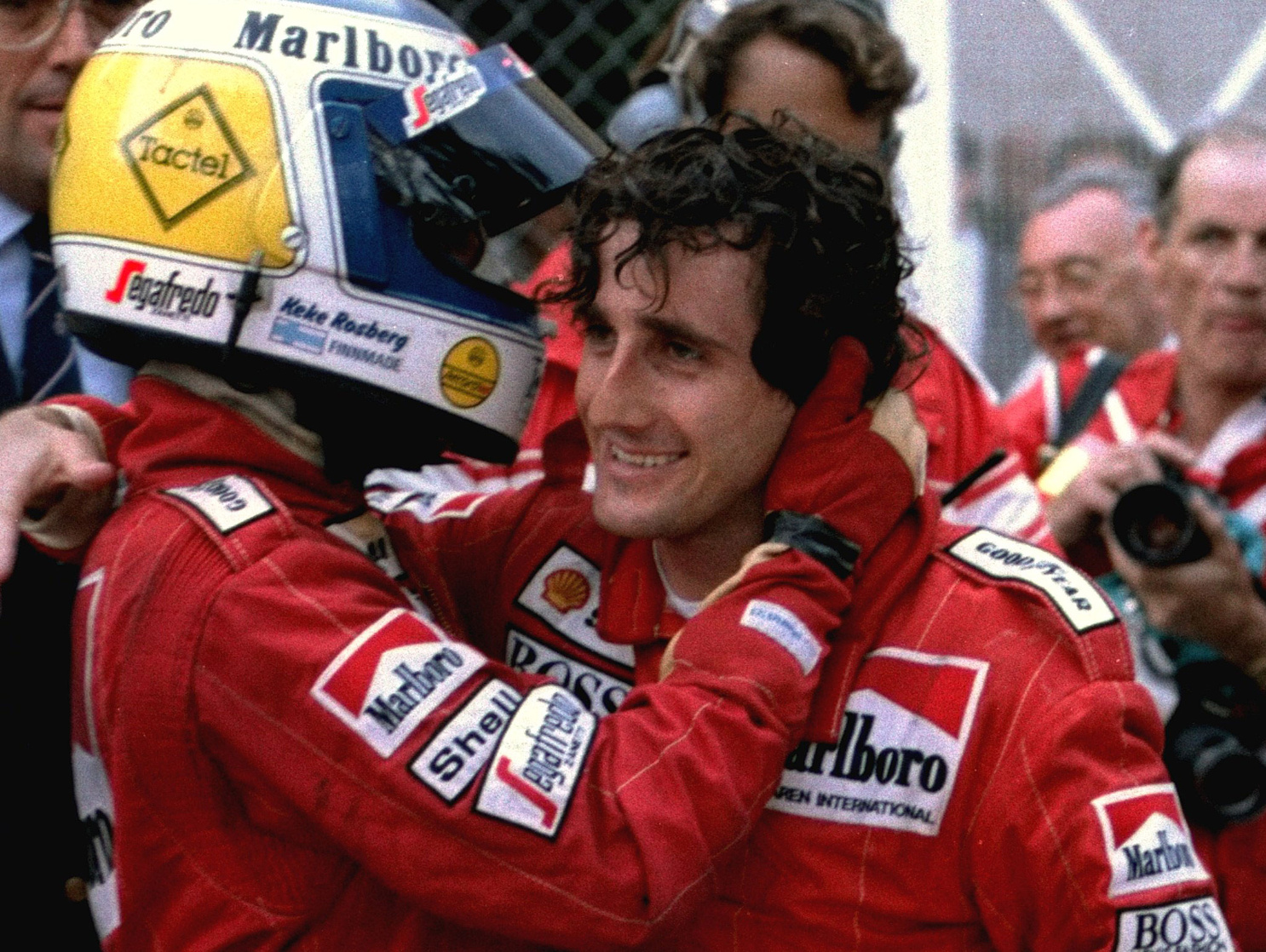 They called him 'le professeur'. Silky smooth, fiercely intelligent and with four world titles on his CV, it was a well-deserved nickname. Prost learned how to win races with unreliable Renault from 1981-1983, but it was losing to McLaren team-mate Niki Lauda, in 1984 that taught him that you also needed guile to win a title. Back-to-back crowns followed. After falling out with Ferrari, Prost took a year out before returning for one more year with Williams in 1993. Needless to say, he won the title.
2. Juan Manuel Fangio – 1951, 1954, 1955, 1956, 1957 (5)
Fangio, won the first of his five titles. 1952 saw him suffer his first major accident, at Monza.In 1954 he moved to the Mercedes team and won his second World Championship. He drove twelve Grands Prix for Mercedes winning eight times. This began a string of four straight titles. In 1955 he won a particularly brutal race at the Argentine Grand Prix.
1. Michael Schumacher – 1994, 1995, 2000, 2001, 2002, 2003, 2004 (7)
Statistically the most successful driver in F1 history, Michael Schumacher utterly dominated the sport in the early part of this decade.Famed for his relentless pace and supreme ability to pump in quick times at crucial moments in races, Schumacher can make a case to be called the most complete F1 driver ever.Sometimes controversial and always uncompromising, Schumacher, like most champions, had great desire, speed and racecraft. But his work ethic, supreme fitness and ability to galvanise teams around him were the qualities that really made him stand out.