Social media has become a powerful tool that eases the relationship between celebrities and their fans, its also vital in the promoting of individual brand.
Sports stars are therefore not exempted as the stars obviously have millions of their fans following them on social media in order to get first hand information on what is happening to their stars. In this article thus, we examine the top ten most followed sport stars on twitter.
10. Sachin Tendulkar – 12.9m followers
Widely regarded as the greatest batsman of all time.He is the leading run-scorer and century maker in Test and one-day international cricket. He is the only male player to score a double century in the history of ODI cricket. In 2013, he was the only Indian cricketer included in an all-time Test World XI named to mark the 150th anniversary of Wisden Cricketers' Almanack.
9. Gerard Pique – 13.5m followers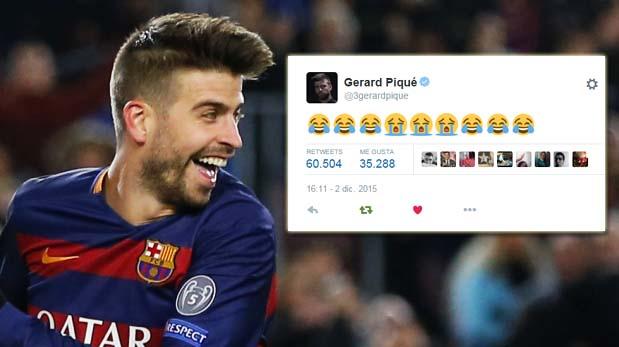 The former Manchester United defender has carved a niche for himself as one of the best defenders in the world right now. His popularity also blossomed as he is currently dating music super star, Shakira and they have two sons. The centre back though is not a fan favourite in Spain as he has constantly been booed, an act which has made him say he would retire in 2018.
8. Ronaldinho – 13.7m followers
Definitely one of the best to ever play the round leather game. The Brazilian international and former Barcelona player was known for his constant smile during his career and played the game for the fans to enjoy. He was recently appointed as an ambassador in Barcelona having toured several countries, playing the game before his retirement recently.
7. Wayne Rooney – 14m followers
The England all time highest goal scorer and Manchester United star has been receiving a lot of sticks recently for his below par performances, and has seen his position as a regular starter reduced for both club and country, but his followers on social media is not receiving such bashing. He will be hoping to revive his form though as soon as possible.
6. Andres Iniesta – 14.3m followers
The maverick, the silent killer as he is known doesn't rack a lot of mind blowing statistics when it comes to the game but quietly gets the job done and just like fresh wine, the older it becomes, the fresher it is. He is currently the captain of both club and country and will be hoping to lead both sides as they chase glory this season.
5. Kevin Durant – 15.1m followers
He was the biggest free agent in the summer and opted to join Golden State Warriors ahead of parent club Okc Thunder, something that annoyed the Thunder fans. He will be hoping to propel his new team to success as he seeks to win the NBA championship, which was his main aim of joining the Warriors over the summer.
4. Neymar – 25.7m followers
The Brazilian superstar known for his showboating, and part of the deadly MSN gang is a very popular figure not just in Brazil but all over the world due to his flashy lifestyle. When he is not in Barcelona, Neymar is often in the public eyes, most notably in America with musical and other sporting stars.
ALSO READ: Top 10 Greatest Penalty Takers In Football History
3. KAKA – 26m followers
Also one of the best footballers the world had the priviledge of watching. Kaka was a grand superstar and helped AC Milan win both the league and Champions league titles before eventually leaving the club for Real Madrid where his career took a bad turn, as he just couldn't show the stuff he was made up of partly due to injuries. He currently plies his trade in the MLS.
2. Lebron James – 33.3m followers
Definately the most popular name in basketball globally. Lebron James single-handedly led the Cleveland Cavaliers to win the NBA Championship last season, leading the finals in both points, assists, rebounds, becoming the first player in history to do that. He has also been a voice for the blacks in America, using his platform to constantly lend his support.
1. Cristiano Ronaldo
The three time Ballon D Or winner who is also gunning for his fourth this year is the most followed sport star not just on twitter but also on every social media platform on the planet. He nhas had quite a successful year, winning the Euros with native Portugal and the Champions league with Real Madrid and looks set to get another Ballon D Or this year all things being equal.