President Muhammadu Buhari's administration received a total of N2,203,573,573,563.25 from the Federation Account as allocation between June 2015 and May 2016.
According to a survey conducted by the Economic Confidential, it emerged that during the period under review, the administration got the highest allocation in July 2015 with N412.60 billion and the lowest allocation of N113.80 billion in May 2016.
ALSO READ  Barcelona Terminate Alex Song Contract; Midfielder Signs For Rubin Kazan
The report conducted by Economic Confidential reveals the following:
– June 2015 – N173.91
– July – N412.60 billion
– August – N216.99 billion
– September – N180.86 billion
– October – N162.93 billion respectively.
– November – N205.15 billion
– December 2015 – N151.64 billion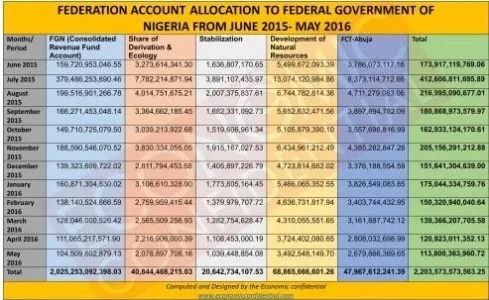 January 2016 – N175.04 billion
– February – N150.32 billion
– March – N139.36 billion
– April – N120.92 billion
– May 2016 – N113.80 billion
Meanwhile, total inflows into the Treasury Single Account (TSA) of the Federal Government under President Buhari stood at N3 trillion while the number of Ministries, Departments and Agencies (MDAs) rose to 976.