James Milner has confirmed his retirement from international football following discussions with the England manager, Sam Allardyce. The Liverpool midfielder made his senior debut in 2009 before going on to make 61 appearances for his country.
ALSO READ  Blackish Stars Tracee Ellis Ross And Anthony Anderson Showoff Some Etighi Dance Steps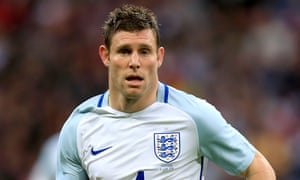 Milner, 30, was part of the England squad at Euro 2016, his fourth major tournament, but he barely featured as the national side slipped out in the second round under Roy Hodgson. Milner had alluded to stepping away from international duty as recently as last week.
"James has had the chance to reflect on his international career in recent months and consider his next steps, particularly with a young family at home and having allowed himself little free time away from the professional game in the past 15 years," Allardyce said.
"After we had a lengthy conversation with him earlier this week, he has decided to take a step back from international duty; a decision I fully respect. James can be proud of his seven-year career as a senior England player."