Furthering the cause of reducing gender inequality in terms of representation in the realm of emojis, four employees from Google have submitted a proposal to the Unicode Consortium to add 13 emoji that better represent professional women. The Unicode Consortium is the body responsible for the creation of new emojis, and the Google team is pushing for the change to be implemented before the end of the year.
Google employees Rachel Been, Nicole Bleuel, Agustin Fonts and Mark Davis are behind this initiative. Elaborating on the reason for these additional emojis, the proposal reads, "We believe we can have a larger positive impact by adding 13 new emoji that depict women across a representative sample of professions. We believe this will empower young women (the heaviest emoji users), and better reflect the pivotal roles women play in the world."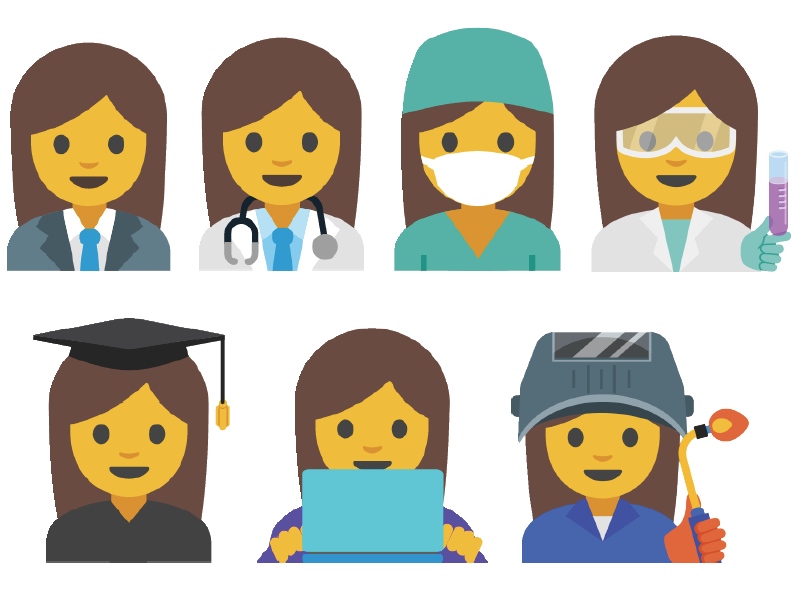 The emojis proposed are categorized into professional categories like Business, Healthcare, Education, Scientist, Technology, Industry, Farming, Food Service, and Music. Google has taken into account a slew of jobs like office worker, accountant, banker, manager, financial adviser, tax preparer, clerk, doctor, physician, MD, nurse, dentist, anesthesiologist, radiologist, scientist, chemist, lab technician, software engineer, person coding, working on laptop, factory worker, metallurgical worker, mechanic, high tech industry worker, assembly line worker, repair person, plumber, handy person, farmer, chef, cook, teacher, professor, and even a rockstar.
The proposal aims to get the same professional emojis for men as well. The emojis are also meant to be used as combinations of previously existing emojis. For example, man or woman + hospital will become male or female doctor, and man or woman + tractor will become a male or female farmer.
The team has created these emojis after much research and deliberating which jobs involve women. "To make our final selection, we looked at the primary, secondary, and tertiary categories that compose global GDP-Agriculture, Industry and Services-and further broke them down categorically based on global popularity, growth, and overall representation. We additionally added in concepts from popular media campaigns such as #likeagirl, global influencers, and the ongoing support to promote women in STEM. The final determination of the new emoji set was a combination of these above data categories."