A five-fingered robotic hand was is the latest wonder brought to us by science.A team led by an Indian-origin computer engineer from University built the robotic hand that can not only perform dexterous in-hand manipulation but also learn from its own experience without depending on humans to direct it.
Hand manipulation is one of the hardest problems that roboticists have to solve.
ALSO READ JUST IN: Bayern Munich Sign Renato Sanches
"Several robots today have pretty capable arms but the hand is as simple as a suction cup or maybe a claw or a gripper," said lead author Vikash Kumar, doctoral student in computer science and engineering.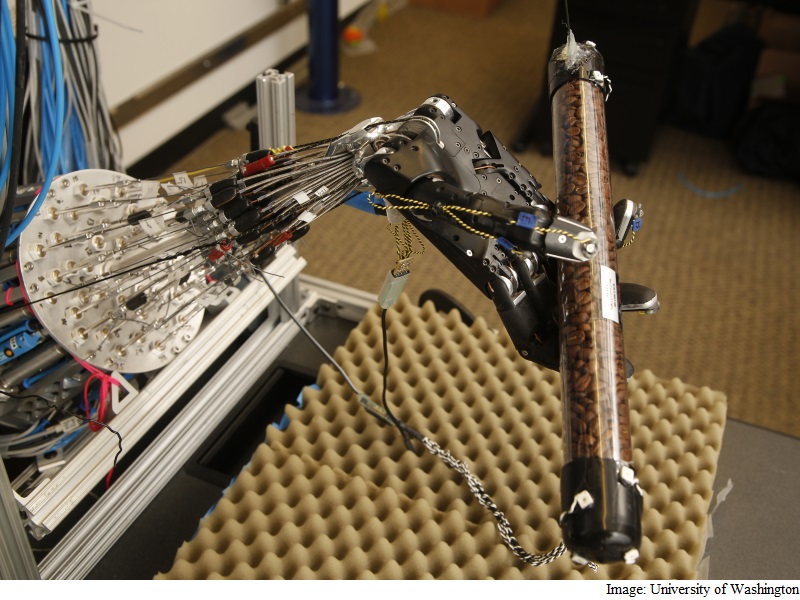 The team spent years custom building one of the most highly capable five-fingered robot hands in the world.
Then they developed an accurate simulation model that enables a computer to analyse movements in real time.
In their latest demonstration, they apply the model to the hardware and real-world tasks like rotating an elongated object.
With each attempt, the robot hand gets progressively more adept at spinning the tube, thanks to machine learning algorithms that help it model both the basic physics involved and plan which actions it should take to achieve the desired result.
"What we are using is a universal approach that enables the robot to learn from its own movements and requires no tweaking from us," added senior author and lab director Emo Todorov.
Building a dexterous, five-fingered robot hand poses challenges, both in design and control.
The dexterous robot hand – which the team built at a cost of roughly $300,000 — uses a "Shadow Hand" skeleton actuated with a custom pneumatic system and can move faster than a human hand.