It seems to the name calling season in Nigeria especially among our so-called politicians who have abandoned burning issues to concentrate on the animals that bears their name.
Among the 3rd world countries it is really not a big deal to give funny names to your pet, I mean several Americans name their dog after President Obama and they are not jailed for it.
On our list today are the animals that have been publicly named after prominent Nigerians
Obasanjo Named Chimpanzee 'Patience'
Ex-president Olusegun Obasanjo about a year back donated a 3 year old Chimpanzee named "patience" to the Drill Ranch Afi Mountain. Patience was formerly at the Obasanjo Presidential Library Wildlife Park. Many believed the chimpanzee was named after the wife of a former President.
Wole Soyinka Called Patience Jonathan a Hippopotamus
In early 2013 Nobel Laureate, Professor Wole Soyinka in an issued press statement about the rift between him and patience Jonathan wrote; "However, unlike crude oil, which can be refined, you can extract hippopotamus from the swamps, but you cannot take the swamp out of the hippopotamus."
Aisha Buhari called Fayose  A Mad Dog
Earlier this year, Ekiti state Governor Ayo Fayose and Nigeria's First Lady, Mrs Aishat Buhari engaged in a verbal misconduct. Fayose had alleged that Mrs Buhari was indicted in the Halliburton Scandal. Mrs Buhari Angered by Fayose's claim, took to twitter to express her displeasure saying: Enough is Enough Fayose.  Fayose is an unchained mad dog. I refuse to keep quiet'.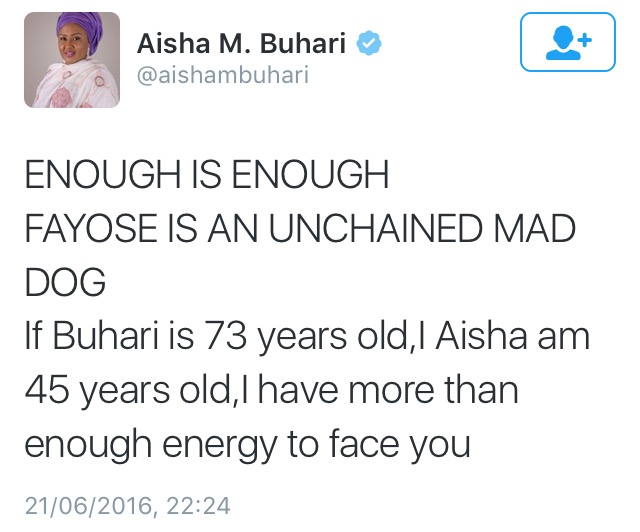 Ali Baba Named Dogs After Obasanjo, IBB, Others
Ace comedian was seen on social media flaunting some of his dogs who he named after former Nigerian Presidents and world leaders. He wrote "My dogs and I back in the day….. OBJ, the big Alsatian was the head of the pack. Then Obama was the big black and white Great Dane, the Alsatian on the bummer was Thatcher. Thatcher must have given me like 18 puppies… In her good days (X120k per puppy) the ridge back by Thatcher was called Madiba… It arrived from South Africa on the birthday of Mandela".
Sango Trader named his dog 'Buhari'
This happens to be the recent encounter on the animal names. Joe Fortemose Chinakwe, an Ogun state trader named his pet dog 'Buhari'. Chinakwe was arrested in August after one neighbours complained that he named his dog after his father, Alhaji Buhari. Joe said 'I named my beloved pet dog Buhari, who is my hero. My admiration for Buhari started far back when he was a military head of state…'