Choosing Brand names is usually a tricky but important part when establishing a brand. In developed countries such as USA, UK, Canada, Trademarks are regarded as a huge part in building brands because it can either make or mar you.
Recently several attempts has been made by celebrities and company to Trademark phrases, style some even went as far as trying to trademark their own name…lol
Just for fun we will take you through what we regard as the 5 most outrageous Trademark attempts ever.
Paris Hilton trademarked the phrase "That's Hot"
Actress, Singer, businesswoman and Hotel heiress Paris Hilton received approval by the USPTO  to trademark the catch phrase. "That's hot". You will think this is a joke until sometime in 2007, she sued Hallmark for using the expression, and her likeness, on one of its cards — and she won.
 Sarah Palin trademarked her name "Sarah Palin"
Don't know if you remember her but she is a former Vice President candidate who has been credited for taking liberties with the English language.  Sometime in 2011, Palin had an attorney draw up an application trade mark her name "Sarah Palin", but it required her signature for approval. She must have been too busy being the Shakespeare of Twitter to remember to sign, because the United States Patent and Trademark Office (USPTO) turned down her request.
But it was later approved on her second attempt.
Facebook Owns the Word "face
As if the social networking site needed any more ammo against competitors, it recently trademarked the word "face".
But don't worry, it only applies to telecommunication services, so companies like Northface are safe.
So far, Apple's video chat app FaceTime is also safe, but we think it'd be fun to see Jobs and Zuckerberg duke it out in court.
Kris Jenner trademarked the word "momager"
As If  the world has not had enough with the Kardashians, few years back the Kardashian mother ; Kris jenner applied that the word "Momager" be trademarked, apprantly she wants her success  as a mother and manager protected… who cares?
Donald Trump tried to trademark the phrase "You're Fired"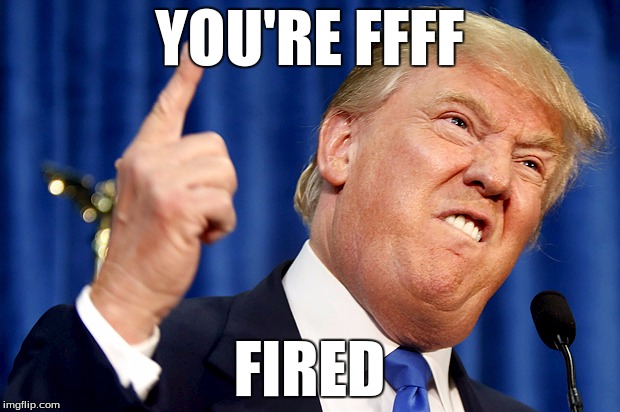 The real-estate-mogul-turned-reality-star-turned-presidential-hopeful sought to make even more money by trademarking "You're fired!"
Reports say he planned to stick his signature catchphrase on clothing, games and casino services.
Unfortunately, officials thought "You're Fired" sounded too much like "You're Hired," an educational board game.