It was an eventful season not just for Leicester City or the premier league but also for the world of football last season as Leicester City against all odds won the premier league, ahead of heavyweights like Manchester United, Manchester City, Chelsea, etc. They did it in style, losing just three games all season.
Fast-forward eight games into the season, they have crumbled, already losing four games in eight and the question right now on everybody's lips is, where has it gone wrong? Well, here are five reasons why i feel they are currently struggling;
1. The Pressure Is Getting To Them;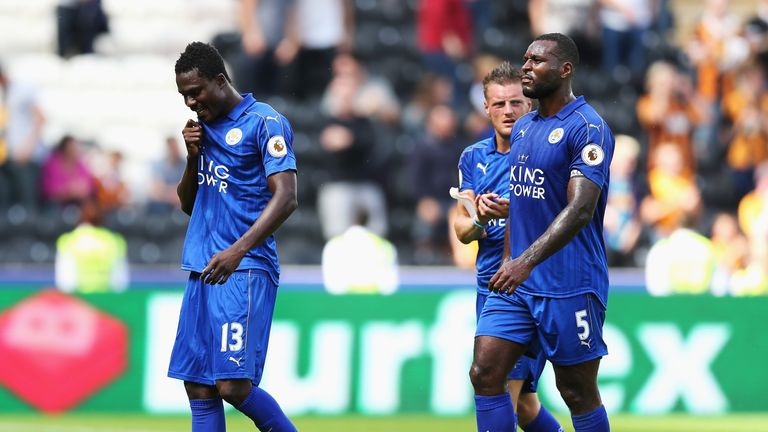 More like a wrestler or a boxer trying to defend his belts. Unfortunately for Leicester City, they are badly struggling with the tag 'premier league champions' and its simple, everybody will take you seriously and prepare specially for you, something they enjoyed the opposite of, last season  as they gradually glided to the title with the 'underdog' tag and thrived. Reverse is the case and they've totally crumbled under such expectations.
2. They Have To Attack, Rather Than Counter-Attack;
Leicester city were successful last season because they worked to their strengths which was counter-attack, with Kante, a vital culprit in winning the ball, feeding Mahrez to work his magic and Vardy to blister past any defense with his speed. This time though, opposite is the case as teams have to be cautious against the 'premier league champions', so they defend and wait for the Champions to come at them, while they counter-attack, something the Champions have struggled to do.
3. Mahrez And Vardy Are Misfiring;
They played a vital part in Leicester City's success last season and were basically the architects of their successful season but have unfortunately failed to replicate their form this season. Vardy at this time last season already had eight league goals in eight games, as he chased Van Nistelrooy's record, while Mahrez was already leading the league in assists and number of completed dribbles as he tore defenses apart. This season though hasn't gone down well for them; probably because defenses now know how to stop them or they just haven't stepped up, something that is currently haunting the club.
ALSO READ: BASKETBALL: 10 Intriguing Transfers In The NBA This Summer
4. Lack Of Creativity;
I want to start this by saying even Kante in this Leicester City team would not change them, as their problem is not closing teams down, their main issue is, they are so orthodox in attack and have been figured out. Their only creative force is Mahrez and when Mahrez doesn't feature, everyone else hardly creates/ there is no one else who can create. Manchester City have Silva and De Bruyne, Manchester United have Mata, Mkhitariyan, with Arsenal, its Ozil and Iwobi, etc. Leicester City has only Mahrez and his dip in form
5. Ranieri's Insistence On Two Up Front
Initially I questioned Ranieri's insistence to sign two strikers in record deals i.e Slimani and Musa despite the prolific duo of Vardy and Okazaki that thrived with Ulloa as the main back up but then, you have to trust the tinker man who worked his magic to a surprise league title last season. Fast-forward few games into the season, it's just not worked. The fact is, they sacrifice one man in the middle each time he does this, and what seems like his best combination in Vardy+ Slimani has worked in the Champions league but the fact is teams will figure it out just like they've done in the premier league. Musa is already a victim as he's hardly seen game time. The question is who next or will Ranieri continue with two strikers? I doubt.