The economic recession seems to be an endless story, it is only a matter of time before Nigerians totally loses it. The inflation rate is high and Food stuffs are more expensive than a minimum wage earner can afford.
Listed below are folks that served under previous administrations who Buhari should solicit help from.
Dr. Akinwunmi Adeshina
Dr Akinwunmi, is the president of Africa Development Bank (ADB). Adeshina's revolutionary achievements in the agricultural sector have opened up several opportunities . He was arguably the most outstanding minister under President Jonathan administration, serving in the Agricultural/ rural development sector. Akinwumi is the perfect man for the job, if truly president Buhari wants us to believe in agriculture.
Obiageli Ezekwesili
She is currently the spokesperson for the BBOG (Bring Back Our Girls) Movement but prior to that, Mrs Oby served as the Minister of Solid Minerals (Mines and Steel) in June 2005 during which period she led a vibrant reform program that led to Nigeria being globally recognized as a credible mining investment destination. Oby Ezekwesili was appointed the Federal Minister of Education in June 2006, a position she held until she went for an appointment in the World Bank in May 2007.
Omobola Johnson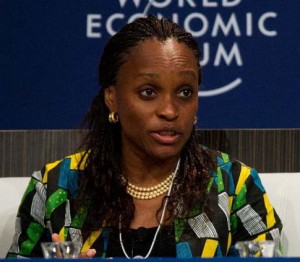 She was a silent achiever during the Jonathan administration, serving as the Minster of Communication Technology. The growing tech hub in Yaba, Lagos which Facebook founder Mark Zuckerberg came to visit is thriving today because of her ingenuity.
She also oversaw implementation of policies to enable broadband internet, making Nigeria the first African country to join the A4AI.
Arunma Oteh
Arunma was never a minister; however, she was the Former director-general of the Security Exchange Commission (SEC), and currently vice-president and treasurer of the World Bank. Oteh is one of Nigeria's financial geniuses. She is particularly committed to ending poverty and raising financially responsible citizens – Nigeria needs her now.
Ngozi Okonjo-Iweala
Okonjo-Iweala has become a household name in the world finance industry. She is one of the most powerful women in the world. Iweala served two terms as Finance Minister of Nigeria (2003-2006, 2011-2015), she understands World Bank politics and can help Nigeria get hold of the foreign exchange required to stay afloat.
She was part of the team that convinced the Paris Club to write off Nigeria's debts during the Olusegun Obasanjo administration.