In the previous administration, the Nigerian internet had wild time making jest of ex- first lady Patience Jonathan for her strange and funny remarks.
We all know that it is not uncommon to have politicians uttering provocative statements. However, it is a national embarrassment to have a President who is surrounded by Special advisers to make such surprising remarks.
President Buhari is the latest culprit in the trend of pathetic utterances.
Here are 4 Things the President should have never said.
Forgetting Yemi Osinbajo's name
About two years back during his Presidential campaign at Owerri, Buhari was paying respect to a number of people at the rally including his running mate Prof Yemi Osinbajo.  However, the President seemed to have forgotten his partner's name as a video clip from the event showed Buhari mispronouncing the name and calling him 'Professor Yemi Osunbade'.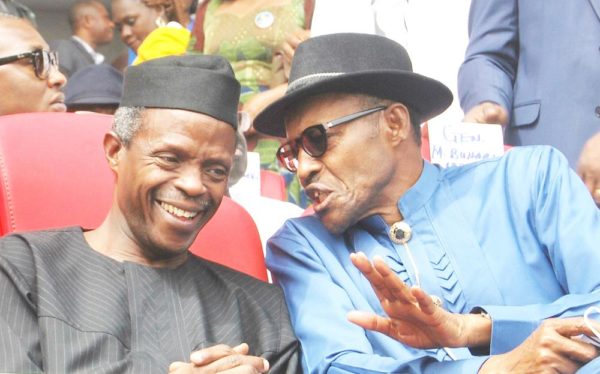 'I Belong to Everyone, I belong to No one'
This was Buhari first ever speech as Democratic leader. During the 2015 presidential inauguration Buhari was quoted saying 'I belong to everybody and I belong to nobody.' The statement which sparked argument among people of different class in the society was widely reviewed as a move by the president to boycott some of the promises he made to Nigerians.
'My Predecessors should be blamed for the recessions'
Despite passing a budget higher than any other administration, Buhari and his team keep pointing fingers at the Goodluck Jonathan and past administrations for the nation's economic woes. In several interviews the President has been quoted blaming the lavish spending of the previous government. The question is how long will the President continue to blame his predecessors?
'My Wife belongs to my Kitchen and living room'
Last week the First lady Aishat Buhari made an interesting statement during her interview with BBC Hausa. During the interview, Mrs Buhari revealed her intention not to vote or campaign for her husband come 2019 elections 'if things continues like this'. One would expect the President and his league of media advisers to come up with a good statement to handle the situation. Instead, the President who is in Germany (a third world country with a handful amount of women in power) was quoted saying 'my wife belongs to my kitchen and living-room'.
Though his special advisers said the President's remark was a joke, the Nigerian society and world at large is not finding the statement funny. In a world where we have females campaigning for the most powerful position, it is the duty of a prominent leader of the Giant of Africa to push for gender equality irrespective of his cultural background.